WINAMP

Bookmark Manager v2.22 (January 17/2003)

This plug-in allows you to organize all your Audio files, Audio CDs and URLs and displays a list of Shoutcast Servers

After you have added files, you'll be able to search any song by it's title, artist, genre, and location.

Besides, you will be able to save the list of selected items, and load it later, to play it whenever you want.
Changes:

Reproduction Control v1.36 (November 13/2003)

This plug-in allows you to configure the following options:
Start playing automatically after Winamp starts.
Execution of WINAMP when Windows starts.
Detects the insertion of data CD's that contain Audio files, and reproduce them.
Search of Audio files in selected directories, when WINAMP start or when a key is pressed.
It allows to assign Hotkeys to the functions: Previous, Play, Pause, Stop, Next, Volume Up, Volume Down, Fast Forward 5 sec, Rewind 5 sec, Toggle Shuffle, Toggle Repeat, Jump to file, Mute, Open file and Open directory, of WINAMP through the keyboard.
Assign a hotkey to turn off the PC.
Remove dead files when Winamp starts or when a CD is removed from de drive.
Compatible with Windows 95 and Windows NT
More...
Changes:
The plug-in now detects the insertion of removable drives like USB devices.
Fixed: The hotkey for shutting down Windows wasn't working under Windows XP.
Fixed other minor bugs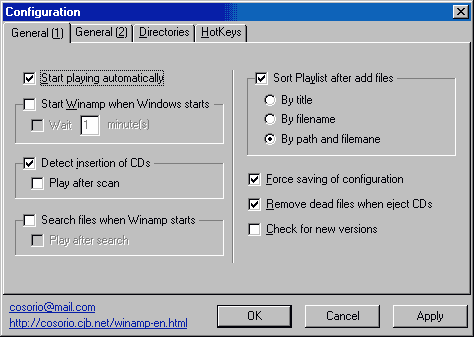 Winamp Lyrics v 1.22 (Frebruary 29/2000)


This plug-in displays the lyrics of the file that Winamp is playing, it supports the following formats: Lyrics3 v1.0, Lyrics3 v2.0, .TXT, .LRC, .HTM, and .HTML
Features:
Capacity to use skins to change the plug-in's appearance.
The lyric can be imported/exported to .LRC and .TXT files, allowing to share the lyrics with other people.
The plug-in can edit the lyrics and ID3 tag of the file
The font's color and size can be changed
Compatible with Windows 95 and Windows NT
Changes:
Fixed: Function "Add/Remove 1 second to time stamp" don't work sometimes
Fixed: The file lyrics.txt is not used
Fixed: "Import lyrics from .TXT" is not working
Fixed: When importing from .LRC, the additional information are not cleared
Fixed: Floating windows are not hidden when Winamp is minimized
Fixed: The plug-in doesn't save the preferred lyric format
Fixed: The plug-in don't check new versions.